I've gotten several questions about adhesives, and what I use when I'm making the albums… Well, the short answer is, it depends!  I have several different adhesives that I use, depending on what I'm trying to glue down, and what I'm gluing to…
My main-go-to adhesive is my ATG gun, it's large, and seems awkward when you look at it, but it's wonderful when you want to stick paper to paper. It's fast and SERIOUSLY sticky.  It is essentially 2-sided framing tape, and once it's down it's not going anywhere! I have the yellow which uses 1/2 inch tape, and it looks like this: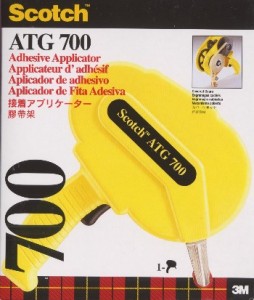 When I'm using small letters, or when I have small embellishments that will go through, I still go to to my Xyron 150 (AKA the "X"), but I only use the refill part… I don't use the actual X anymore, it's not necessary and I save adhesive when you don't lose as much on the front and back edges when you use the refill alone.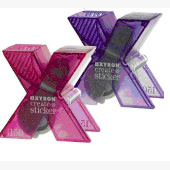 My newest favorite adhesive is Zip-Dry… I avoided it for a long time because I couldn't imagine using a wet-glue on paper projects (I actually use Mod-Podge on lots of projects, but it's a totally different medium). I thought that it would buckle and do odd things to the paper… But I was at CKC Manchester, and ran into a few friends from the LSS in one of the vendor's booths, and they had it for a great price… My friends told me that I "had" to try it, so I bought 2 bottles… Now I use it all the time!! It's become my go-to whenever the ATG is too big (and sometimes when it's not!).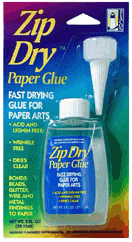 So, when you're looking at the various projects and wondering what adhesive I've used, 99.9% of the time, it's one of these three!